Plants are not just an amazing decor piece, but they can be very beneficial for our health as well. Houseplants are proven to better air quality in our homes (1).
Here is our choice of top 5 air purifying plants for your home:
1 SPIDER PLANT
The spider plant is among the most popular houseplants right now – and there is a good reason for this. They are very easy to take care of, they are fast growers and unbelievably easy to propagate. Not to mention they look super unique. Spider plants are very adaptable, in fact, you won't need much of a green thumb to keep them nice and growing. They will love occasional misting and watering once a week (or when the top inch of soil gets dry). Because of their popularity, you'll probably be able to get one very easily – just check your local plant nursery or garden center.
2 PEACE LILY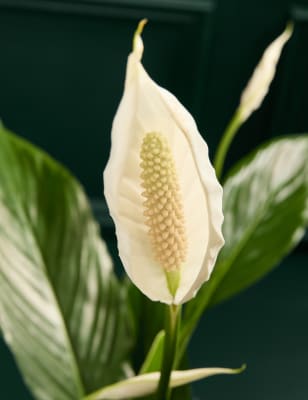 Peace lilies are known for their big dark leaves and beautiful white blooms. They are not just beautiful, but very beneficial as well. It filters out five dangerous toxins from the air: benzene, formaldehyde, trichloroethylene, xylene, and ammonia. The care for these houseplants is very easy and straightforward. They need consistently moist soil, but they don't like to sit in standing water. Peace lilies can grow in low light situations, so they are great for any home.
3 CHINESE EVERGREEN
Another popular and common houseplant that will actually make your home air better quality. Studies show these plants are effective at removing common household air toxins like formaldehyde and benzene. These plants like

4 GOLDEN POTHOS
Golden pothos is probably the most common plant in people's households.
5 ENGLISH IVY